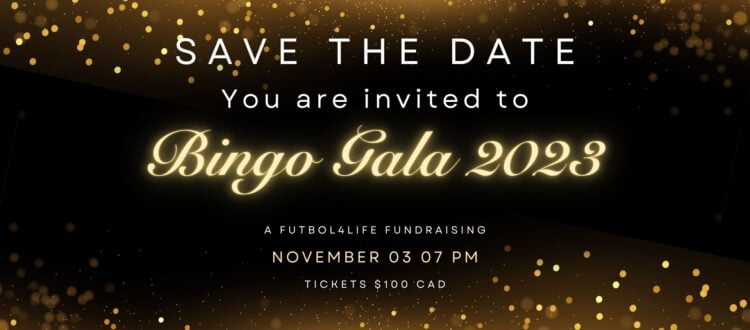 Get Ready to Score Big for Futbol! Join Our Bingo Gala Fundraising Event!
Hey there soccer enthusiasts and supporters of our organization! We're excited to share some thrilling news that will have you kicking up your heels in joy.
Our soccer non-profit is hosting an incredible Bingo event to raise funds, and we invite you to be a part of this goal-oriented extravaganza!
Event Details:
📅 Date: November 03 – 2023
⏰ Time: 07:00 PM
📍 Location: 3085 Lenworth Dr. Mississauga, Ontario
💲 Ticket Price: $100 CAD per person
🎟️ Online Tickets Available: Buy here
📞 Contact Patricia Ourjeta to Purchase Tickets: +1 (647) 886-5797
Why Bingo, you ask? Well, just like on the soccer field, Bingo is a game of strategy, teamwork, and a whole lot of excitement. By participating in our Bingo event, you're not just having a blast, but you're also contributing to a great cause – supporting youth soccer programs in our community.
Here's why you should join us:
Fun for Everyone: Whether you're a die-hard soccer fan or just looking for a good time, our Bingo event promises entertainment for all ages.
Prizes Galore: We've got fantastic prizes lined up, including soccer memorabilia, merchandise, and more. Every Bingo win takes you a step closer to scoring big!
Community Spirit: Come together with fellow soccer lovers and make new friends who share your passion for the beautiful game.
Supporting Youth Soccer: Your participation directly funds our programs, ensuring that young athletes in our community have access to quality coaching, equipment, and opportunities to thrive in soccer.
So, grab your bingo cards, invite your friends and family, and let's kick off an unforgettable evening of fun and fundraising. Let's unite to make a difference on and off the soccer field. See you at the Bingo event – together, we can score big for soccer! ⚽🎉
Stay tuned for more updates and surprises as we get closer to the event. Don't miss out!
Buy your tickets online here today!